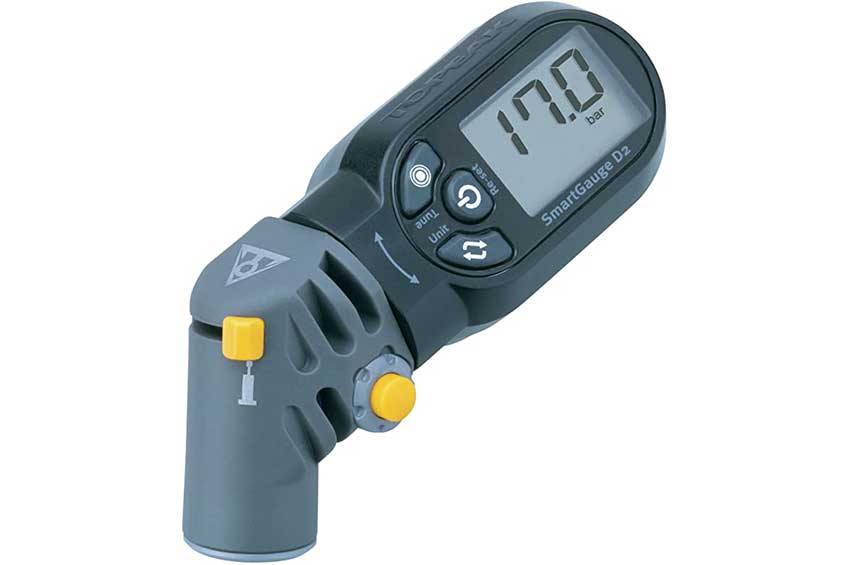 What's a trendy, high-performance road bike with deflated tires good for? Well, aside from decorating the garage, nothing else. A good road bike needs maintaining if the whole riding experience is to be savored.
This means that a cyclist should own at least three maintenance tools: a good set of Allen keys, probably an all-in-one spanner and a bike pump. Bike pumps come in handy when you have to get back to the saddle, but your tires are running out of pressure.
They certainly help you make sure that bike tires have optimal pressure during your pre-ride routine at a road race event or sportive.
Even so, knowing that you need a pump is one thing and actually getting one is another. If you are thinking of buying a bike pump, you should find this top ten best road bike pumps review helpful.
The 10 Best Road Bike Pumps Reviews of 2021
Compact so it's portable. Lightweight so it's reliable. Sturdy so it's durable. Stylish so it's quality. The wheel N Spoke mini pump is a great choice of compact pumps for emergency situations. They are small to fit into a small backpack or simply attached to the bike's frame.
Underestimating this compact unit will only prove you wrong. It is capable of pumping up to 100PSI in pressure. Its strong hose makes airing up your bike tire quick and easy. The pump fits well in the hand when pumping so you feel comfortable and fatigue is eliminated. It can accommodate both Presta and Schrader valves making it the perfect choice for club riding; one pump will serve all.
The Serfas FMP-500 characterizes quality and reliability in floor pumps. It comes in a simple, easy to install valve pump head that fits on both Schrader and Presta valves.
You can pump pressure reaching up to 260 PSI through its integrated air release valve. You can certainly rely on its sturdy metal barrel to be durable. Its hose is firm and durable, made of stainless steel, braided.
This top notch hose and a simple functional pump head are complemented with an oversized, vividly visible gauge. This fine orange pump comes in an ergonomic handle that eliminates fatigue, making the pumping process easy, fun and worthwhile.
This is a second generation smart digital gauge. It comes affordable, so you can save up some money as you fill up your bike tire. The gauge features a smart rotating head that fits on both Schrader and Presta valve types without having to go to the trouble of changing adapter parts. Its gauge is calibrated to precision and can read up to 250 PSI.
The whole unit is powered by a single CR2032 battery and LCD display is able to change pressure reading to PSI, Kg/cm and bar depending on your preference. It is a versatile unit designed for bike tires, rear shock units, and suspension forks.
With its extra-long barrel, this floor pump can air you up within no time. It features a CNC machined steel piston aluminum barrel whose chamber is capable of pumping very high pressure. Its ergonomic handle is wood varnished; gripping feels good and pumping easy.
It features also a CNC machined center lug for enhanced performance. Its head can fit both Presta and Schrader valve types and it comes with a pressure release valve that helps easily unthread pump from the valve. It features a premium-grade extra-long hose that threads securely to the base and allows for easy pumping from a reasonable distance.
A stylish design, bright pink color, and reduced standover height make it the perfect choice for any lady who's big on riding. It may be designed for the lady, but it's also a good fit for the gents. Its large chamber lets you fill up quickly and easily and its ergonomic easy pump handle eliminates fatigue while enhancing grip comfort.
It comes with a simple head that can fit on both Presta and Schrader valve types for greater compatibility. Its barrel is made of a sturdy metal to make it durable, reliable and long-lasting. The pump is equipped with ball and other accessories for ease of use, high performance, and greater comfort while airing up your bike tire.
This Joe Blow Spirit comes highly recommended for its great performance and affordable price offering. It is a durable floor pump that offers an outstanding performance. Its wide adaptable base makes it easy to use on any terrain. The handle is ergonomically designed to make pumping easy and quick.
It comes with a twin head design head that allows for use with both Presta and Schrader design of valves. Its large chambers make airing up a quick and tireless process. It also features a gauge indicator with a vivid reading display that lets you easily control pressure. It is definitely a best buy.
Serfas TCPG Bicycle Floor Pump features a rich design that seamlessly combines with the utility to produce a single functional high-performance unit. Its barrel is made of sturdy metal for durability and its chamber large to accommodate high pressure to rapidly air up your bike tire.
The pump is made with a simple yet versatile pump head that can fit both Schrader and Presta valve types. Its 160PSI makes it a superior performance floor pump and inflation is quicker. It comes with a stable nylon base. The ball and accessory attachment, coupled with an exact pressure gauge make this pump an amazingly easy to use choice.
This Ohuhu mini bike pump is a durable portable bike accessory choice. It is a high quality multipurpose mini pump that guarantees exceptional performance.
Constructed of aluminum alloy, you should expect this pump to be solid and durable. It can pump up to 110PSI of pressure; enough to inflate your road bike tire in no time. Carrying as well as installing on the bike are portability options, and it can fit in your small backpack too. It is a reliable pump unit that can be used for both Schrader and Presta valves for versatility. And its price offering is amazing too.
The Kuwahara Hirame is a stainless steel locking hose band for Presta valves. Its design is inspired by vintage Japanese chucks; usually preferred for their high endurance and ability to work diligently under high pressure and in demanding conditions. This hose band enables your pump to inflate as many tires as can be inflated in a day; it will not overheat or wear down your pump.
It is a durable and reliable locking chuck and is a great choice for bike enthusiasts as well as road bike shop owners and repairers. Its price offering tells how you get value for your money.
Things to consider before buying the best road bike pumps
The sheer number of different bike pumps available makes it hard to choose a good pump that meets your specific needs. Even so, a good one isn't hard to come by; given the right information and a few good options to sample from. Consider the following when shopping for a bike pump:
Type of pump
Floor pumps and mini pumps are the most common types of pumps. Floor pumps are good for their high performance and quick inflating ability. Mini pumps are good for their portability.
Head
Your bike will have one of two types of valves; a Presta or a Schrader. Go for the pump that fits your valve type. The better if you get one that fits both.
Pressure
A bike pump that reaches high levels of pressure is always the best choice. Your tires pressure requirement details are indicated at the side of your tires.
Gauge
A pump that comes with a pressure gauge has the obvious advantage of letting you measure the pressure. Road bikes need about 100PSI (pounds per square inch) pressure, two times more than the 50 PSI for mountain bikes. A gauge will come in handy if you are to inflate both types of bikes.
Durability
Of track pumps and mini pumps, the former are recommended. They are durable while the smaller bike pumps quickly wear out. A rebuildable pump comes highly recommended.