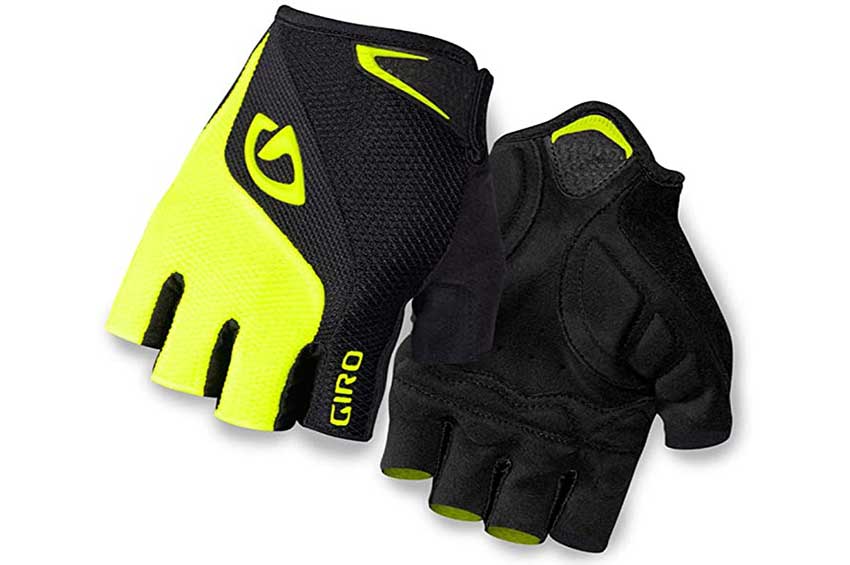 Road bike cycling gloves serve an important function in the cycling world. During the deep winters, you cannot dispense with winter cycling gloves, and a professional cyclist knows how handy a good road racing glove comes.
Cycling gloves do not only offer protection, but also help enhance the whole riding experience. They improve grip and enable the rider better achieve control of their bike.
Indeed, having the best cycling glove is essential to having an enjoyable riding experience. They may seem small and insignificant bike accessories, but really, they help a lot in saving your skin and joints, and you feel comfortable too when riding. We have handpicked 5 of the best cycling gloves in the market and thoroughly reviewed them so you can know what to look for in cycling gloves.
If you want a glove that gives you the best value for your money, this is a perfect choice, hands down. You get a high-quality construction with a number of amazing performances enhancing features, all at a much affordable price. Giro Bravo Gloves is the glove for you if you prefer the feel of a more traditional designed comfort padded glove.
Clarino synthetic leather material for durability and super fit innovative design to achieve a tailored fit. It features a three-panel palm fit design and a moisture-wicking breathable mesh that stretches 4-ways to achieve a more comfortable fit.
Also featuring is a super fit ergonomic design and a high absorbent microfiber wiping surface that enhances comfort and fits well in hands. You can trust it to offer a strong grip on the handlebar for ease of controlling when riding.
Special Features Are
Clarino synthetic leather construct for comfort and durability
Super fit three-panel palm design to eliminate fatigue
Breathable mesh for comfortable fit
Absorbent microfiber wiping surface
Velcro closure
Sonic-welded pulls tab for easy off
2. Louis Garneau 12c Air Gel Gloves – Men's
The Louis Garneau 12C men's glove is a comfortable ergonomically designed glove best for long hauls and touring. Its comfortable design multi-thickness gel padding makes it a performance enhancer. Quality material, ingenious design engineering, and perfect cut for optimal performance and great comfort.
Ergo Air vent channels for aeration, the pre-shaped curve for easy firm fit and silicone palm comfort padding for a relaxed feel. The upper hand is made of Carbon ion Lycra and Lycra to offer a firm yet comfortable fit for maximum protection. The palm ide is made of digitized Amara and sandwich mesh for enhanced relaxing comfort.
Cut technology features a microfiber thumb, multi-layer coated silicone palm and pull tab with Velcro-adjustable ergonomic cuff. The glove features a 2mm and 3mm gel padding for greater comfort.
Special Features Are
Sandwich mesh palm for breathability
Multilayer coated silicone palm to enhance comfort
Velcro-adjustable ergonomic cuff
2mm-3mm Biogel padding to eliminate numbness and fatigue
1"high-6" wide easy fit men's gloves that fit quickly and comfortably
Hook-and-loop closure
1-year warranty
Serfas RX gloves for men are the best choice for great comfort and high performance. They are equipped and feature packed to meet the high demands of most avid cyclists. These gloves feature a stylish design, quality construct material and impressive ergonomics they are ready to ride!
Designed by doctors to improve circulation and eliminate numbness, the Serfas RX gel cycling gloves are recommended for use in road races and long hauls. They minimize handlebar palsy -common in most avid cyclists- by reducing discomfort and relieving pressure and stress to the palm are.
Easy off loops allow for quick wear and easy remove. Its breathable, quick-wicking easy-stretch mesh allows for aerodynamics. Partitioned gel padding increases flexibility, durability and comfort when riding. It also offers a large microfiber cloth designed for wiping off sweat and cleaning snot.
Special Features Are
Doctor designed technology to eliminate numbness and handlebar palsy
Partitioned gel padding for flexibility and comfort
Double stitched padding for durability
Fast wicking breathable mesh
Loops for easy-off
Microfiber cloth thumbs
Pearl Izumi is one of the most popular cool weather cycling gloves available. This men's cyclone gloves added a new touchscreen compatibility for ease of use on tablet and smartphone with the gloves still on. Much renowned fit, comfort and protection features are retained from its original version.
The glove is gear designed with a stylish construct that makes it fit perfectly with your hand motion. Its performance-oriented engineering ingenuity and balanced anatomic fit work to greatly enhance the riders cycling experience. And it effectively eliminates fatigue perfect for touring, club riding an even road racing. The featured personalized interface lets the athlete easily connect with their gear.
4 cores Fibre technology used helps maintain a perfect temperature and eliminate sweaty palms. The glove is comfortable to enhance the riding experience and feel.
Special Features Are
Elite soft-shell fabric
Conductive synthetic leather for touch screen compatibility
Bio gels padding for superior riding comfort
Glove fits comfortably for enhanced dexterity
Synthetic leather palm for durability and soft for comfort feel
Hook and loop closure
Reflective compounds for dim-light visibility
Lightweight, comfortable stylish design and flexible fabric material or enhanced performance. The Cgecko half finger gloves are designed for outdoor cycling. It's best for the avid cyclist as well as for club riding and prolonged cycling.
The glove features an integrally situated Gel palm to help evenly distribute pressure for less fatigue. Its double Ax Suede fit layer allows for great firm grip and makes the glove durable. It also features a low profile wrist tab closure for more flexibility, comfort, and enhanced performance.
Improved personalized interface to let the rider easily connect with their gear. It features an absorbent surface on the thumb to allow for wiping off sweat and cleaning nose.
Special Features Are
Lightweight comfortable and stylish design for enhanced performance
Integrally placed gel palms to relieve fatigue
Double Ax suede layer for dexterity and firm gripping
Absorbent wiping surface on thumb
Low profile wrist tabs closure
Final verdict
Cycling gloves are one of an essential road bike accessories any avid cyclist and riding enthusiast should acquire. They are good for protection against the elements as well as offering comfort when riding in prolonged tours.
A good glove should be one that suits your personal riding requirements. Advanced technology in Biogel padding makes modern riding gloves comfortable and use of lightweight synthetic material improves performance.
Microfiber wiping zones are also a feature to look for when rider anticipates sweating from prolonged riding. All in all, different gloves are designed for different functions, be sure to get a pair of glove that complements your riding.