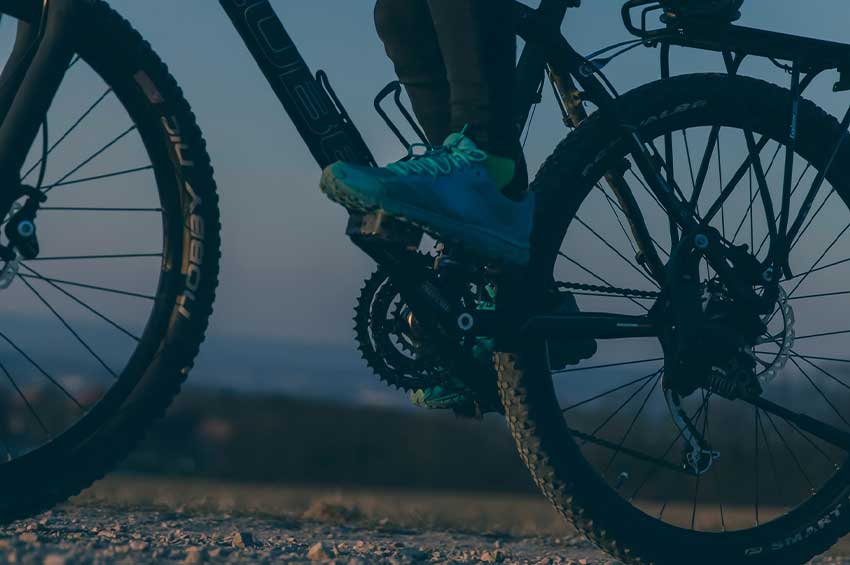 As a road cyclist, you have to train every once in a while to improve on speed (for racing or keeping up with the pace of a group riding crew) and stamina (for touring and prolonged cycling).
Sometimes, you will find that you have to deal with unfavorable weather conditions when training on the road and you wish you could train indoors, at the comfort of your home. Using a gym machine is not an option for you! You want to train on your own bike. You will need to acquire a good bike trainer (variously known as a turbo trainer and bike stand trainer), in order to take your training indoors.
This will give you absolute freedom to continue your training regardless of the weather. Trainers are also good for warming up prior to competitions and road race events. If you are thinking of acquiring a trainer, you will find this review of the five best trainers very useful.
This magnetic resistance bike trainer offers the perfect solution for avid cyclists and professional cyclists who wish to continue training indoors, on their own bikes. When the weather conditions outside are not favorable for your training, this bike trainer converts your bike into an indoor cycling trainer.
It is a high-quality unit designed for performance. Setting up the trainer unit is quick and easy so you can be sure that it's ready to run. It offers the most effective indoor training on a rigid steel frame for optimal support when training. It is a versatile trainer unit is compatible with both road bikes and mountain bikes with 700c, 26" or 27" tires.
Designed with the more serious cyclists in mind, this trainer unit offers a 5 level resistance. This actually suits different riders' training needs, effectively enhancing muscle stamina, endurance, and speed.
Special Features Are
5 level resistance
Progressive magnetic resistance system which increases resistance with increase in speed
Micro-adjust knobs for adjusting to fit different tire sizes
Quality design with firm heavy-duty steel frame
Easy fold for portability and storage
Small, high-performance trainer unit with 21.4", 19.4" & 15.5" dimensions.
No matter the weather, this Conquer Indoor Bicycle Cycling Trainer helps keep your workout and training going on all year round. Simply mount your bike on this magnetic resistance exercise stand in the garage or anywhere in the house and get on with your workout.
You'll love the Conquer indoor bike trainer if you want a trainer that offers performance and quality at a reasonable price. It uses a progressive magnetic resistance system that increases resistance with speed. Basically, the faster you go, the harder it gets to paddle. While this has the downside of not being able to control the speed and resistance from a bar-mounted knob, this kind of progressive system offers the best exercise for your stamina and speed training.
Setting up is quick and easy. And the frame is firm and durable. Its design not only offers the much-needed stability and support but also convenience because it comes with its own riser block to raise the front wheel to suit your height.
Special Features Are
Heavy duty frame construct
Firm, wide frames for maximum support
Quick fold design for storage and portability
Progressive magnetic resistance
Compatible with 700c and 26", 27" bike tires
Raiser block and skewer included
Indeed this MAG trainer by RAD Cycle products is a state of the art indoor portable workout bike trainer that is incomparable in terms of style, quality, and price. It is by far the most quality bike trainer, the most silent when running, of high price compared with other trainers and gives the thinnest profile when folded up.
Made of a heavy-duty steel frame, this trainer unit is a little heavy – not so desirable in such a portable unit, but this guarantees the much-needed stability and durability.
This trainer utilizes a magnetic system that effectively provides magnetic resistance for training on speed, endurance and enhancing on stamina. Easily toggle between different resistances by shifting the gears on your bike.
This is definitely a reliable trainer unit perfect for both beginners and professional cyclists who want to carry on with their workout or training all year long.
Special Features Are
Compatible with road and mountain bikes with 26", 27" or 700c wheels
Magnetic system resistance
Low noise when running
Heavy duty steel frame for stability and durability
Thinnest profile when folded
Reliable portable unit
If you are looking for a complete solution for your indoor training –no matter the weather outside- then you will find the Indoor Bicycle Trainer from Gavin a great choice. And it is a great buy too.
The trainer comes with a front wheel riser block to get the right height on your bike for comfortable training. Sturdy mounting cups reduce slippage. The trainer bike is a quick release bike trainer so your bike should be of such a kind in order to install. It comes with an extra quick release axle so you don't damage your bike's axles.
This is a high-performance trainer unit designed to endure prolonged training and workout sessions. Its heavy duty construct makes it a little heavier than other trainer units, but this has the advantage of enhancing stability.
Special Features Are
Heavy duty frame constructs for durability
Extra wide frame for stability
Easy fold for portability
Quick release axle included
Mounting cups included reducing slippage
Compatible with 26", 27" and 700c wheels
Single adjustment, progressive magnetic resistance
The Bell motivator Mag Indoor Bicycle Trainer is a nice and simple trainer unit with high-performance features suitable for training on speed, improving endurance and enhancing muscle stamina. It is well-priced training unit by Bell that does not compromise on quality.
It utilizes a magnetic resistance system that includes a single adjustment setting for progressive resistance. This means that resistance increases as you increase speed.
It boasts having a double adjuster that ensures your road bike is well centered on the trainer. This has the advantage of reducing slippage while riding. For extra stability, the trainer is designed with a wide base and its heavy duty frame offer greater support and guarantees durability. What's more, the unit comes with a 5-year warranty.
Special Features Are
Well priced trainer unit
Smooth and quiet ride
Single adjustment, progressive resistance
Double adjustment centers for steady rides
20 lb. trainer with 8.5"x20.6"x22.1" dimensions
Comes fully assembled
Final verdict
The importance of indoor training stands cannot be disputed. They are able to simulate the actual riding experience to achieve the most effective endurance and performance training. They help improve on speed and muscle stamina for a greater perforce on the actual racing track or touring or group riding.
The sheer number of different types and brands of road bike trainers available in the market make it nearly impossible to choose one and say that you have picked the best. even so, having  the right information regarding types of trainers (fluid based or magnetic?), prices (best value, medium priced or exotic brand?) and other aspects like durability, drive technology , resistance setting and flywheel performance, can help you know what to look for when buying a road bike trainer.