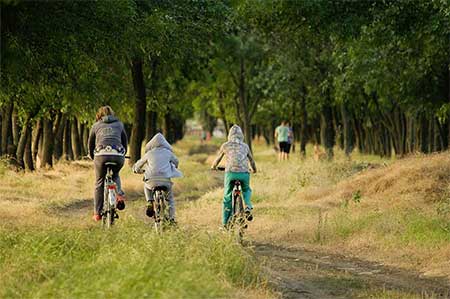 Are you a cycling enthusiast? You must know how a good bike should feel like! It should be solid, high performance and quality. Similarly, it should be comfortable. The Vilano FORZA 2.0 Aluminum Carbon Shimano Tiagra Road Bike is one such bike.

The Vilano Forza 2.0 Alu. Road bike is loved for its low price on the tag. It's a high-quality road bike. The manufacturers were able to produce a high-performance bike at a low price. They did not skimp on quality and features. This bike comes with all the performance and comfort features of a high-end bike. It offers an incredible fork-frame combination. Aluminum frame makes the bike exceptionally light. Yet, it seems to maintain its sturdiness. The forks are solid and durable. Generally, its outer appeal is alluring and functional features impressive.
This is a practical road bike suitable for road trips, road racing, commuting, and group cycling. It's comfortable. It's easy to ride. It's durable. Notably, it's cheap.
Features of Vilano FORZA 2.0 Aluminum Carbon Road Bike
The Vilano FORZA 2.0 is a solid performance road bike. It's feature-packed. It's responsive. And, it's comfortable. More than that, it comes in a stylish design. It seamlessly fuses a modish outlook with functional features. This produced a bike that is alluring and rides comfortably fast. Generally, it's a practical road bike suitable for commuting and occasional racing.
Have a peek at some of its striking features.
Light frame
With a 6061 double butted aluminum frame, the Forza 2.0 is impressively light. Even so, it remains as stable and sturdy as any robust road bike. Its fork is solid. 12k carbon fiber used to make the fork is durable. It will hold up well on any terrain.
It features a drop down handlebar style. This offers the racer great speed efficiency. You are able to get into a comfortable riding position.Whether you are racing or simply riding to work.
The headset is threadless to enhancing the riding experience. Drop down handlebar is taped to offer a comfortable grip when riding.
Reliable drivetrain
The Forza 2.0 features Shimano drivetrain components. It's a 9-speed road bike that rides with graceful agility.
Shimano Tiagra front and rear derailleurs promise a swift, agile ride. They work in concert with a robust chain to offer high-performance riding. An ultra-strong crankset makes it ride reliably fast.
Shimano 9 speed STI shifters respond quickly. Shifting gears is swift. You will not experience any chain skipping when upshifting this bike while cycling. It's a recommended bike for your agile racers.
Superior brake system
Brake levers and gear shifters are combined into one component for convenience. It's placed on the handlebar where you can reach easily. This offers great convenience for an amazing ride experience.
The brakes and gear cables are nicely tucked to make the bike minimal. This adds to its sleek design.
The brake system is effective. It's a side pull brake system that you can rely on to bring your bike to an instant stop. When you need to come to a gradual halt, these brakes are up to the task.
High-performance wheelset
The high-performance wheelset for this bike is a great asset. It comes with double walled 700x25c rims that are durable. They will hold up to any difficult terrain you put this bike to. Spokes are solid strong to endure those challenging roads plagued with potholes. More than that, its brand name 25c tires and high-performance tube offer a great riding experience.
Rolling resistance is on the low while traction is at its top. Inflate to minimum 110psi and you have yourself a comfortable ride. No tube bursts. Just an agile ride you'll appreciate.
Comfortable road seat
If you are going to take this bike for a long ride, you are sure that the saddle is comfortable enough for an incredible riding experience. It's not anatomic as such, but it's responsive to offer a comfortable seating position.
The seat is well cushioned to protect the riding when rolling on bumpy roads. It's sleek and responsive design eliminates fatigue.
Its stock seat style makes the bike remain minimal. It's designed to keep the weight down. And, it gets the job done.
Pros
Light yet sturdy 6061 double butted aluminum frame

Robust fork

Sleek, stylish minimal design

Reliable Shimano drivetrain

Easy shifting Shimano STI shifters

Superior power side-pull brake system

High-performance wheelset

25c tires offer low rolling resistance and high traction

Comfortably cushioned saddle

Urban geometry, stylish design
Cons
The shifters could be made a little more durable and functional
FAQs
Q. How much does the bike weigh?
A. This road bike weighs in at about 20lbs. it's truly light.
Q. How much assembling is required? Will I need tech assistance to pull it?
A. Assembling is quick and easy. You won't need ant technical assistance. The bike comes partially assembled. There are instructions to guide you through the assembly process.
Final Verdict
So, you have just $600 for a bike. You want a high performance, high quality, durable bike for the price! You don't have to spend the whole $600 on the bike. The Vilano FORZA 2.0 Aluminum Carbon Shimano Tiagra Road Bike comes at a much lower price, and it offers all necessary quality, performance and comfort features.
It's a stylish bike for the avid cyclist. It's best suited for both urban and country road cycling. This is a practical bike that will not let you down.