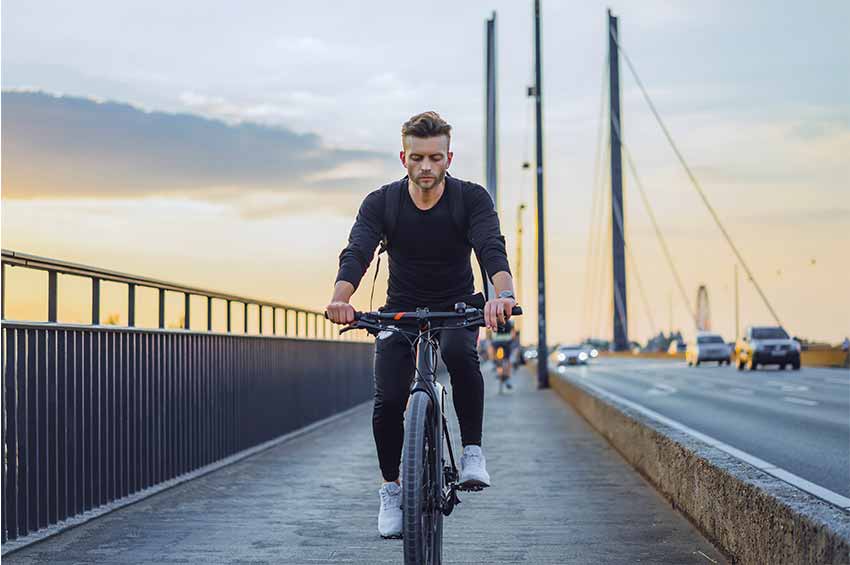 No brand graphics or permanent logos – Vilano Fixed Gear single speed road bike comes completely unbranded. You can comfortably add any style on your bike and know it will look great on your solid color bike.
Aside from its great appeal this Vilano Fixed gear fixie is a high-performance bike perfect for riding to work or classes on your daily commutes. It is fun to ride, offers practical features and comes affordable without compromising quality. Because it does not feature any derailleurs, shifters or other moveable bike parts, this single speed road bike does not need a lot of maintenances or frequent repairs. It features a rear flip-flop hub for easy conversion from fixed gear mode to single speed gear mode.
Its hi-ten steel frame and fork with alloy components makes the bike a lightweight option suitable for speeding through town and it comes with a strong build too – for durability. It is definitely a great bike offered at an amazingly low price.
Features of The Vilano Fixed Gear Single Speed Road Bike
This Vilano single speed road bike is certainly one worth your time. It is offered at a great low price without compromising on quality and performance. Even more, it comes feature-packed to make it the best choice for commuting to work every morning or taking a turn with the cycling club around the neighborhood.
Lightweight Yet Sturdy Hi-Ten Steel Frame
For any road bike to be worth the ride, it surely must be light in weight. This Vilano fixed gear bike comes in a lightweight build that is also surprisingly strong and durable. The frame is a fixed gear tig-welded hi-ten steel that is strong and lightweight. You can be sure that this bike's weight won't be an issue if you find it hard to ride. The fork is 700c 11/8" threadless to make it extra strong and lightweight. Most of the bike's other components are made of alloy which is a light yet durable material that will surely not weight you down.
Comfortable Grip Handle Bar
The bike features a comfortable grip handlebar suitable for riders who like to take their riding far – perhaps too far- from home. You can ride this Vilano fixie for a long distance without feeling any fatigue creeping in on your fingers or even your back.
The seat is rather comfortable and the whole bike's design flexible for an easy, comfortable ride – even when riding through rough roads.
The grip feels easy and comfy to make the whole riding experience amazing. There is ample space on the handlebar fix bike accessories like bells and bike lights so that every ride is a ride worth looking forward to.
Freewheel Mode And Fixed Gear Mode
This Vilano fixed gear road bike is a great ride through any terrain. It features a simple drivetrain that consists of two gear options. You can easily change between fixed gear option and freewheel mode by changing the wheel (flipping). The rear flip flop hub at the rear side of the bike makes this conversion quick and easy. You can be sure to ride in your preferred mode when going downhill or riding through the city streets.
Because this bike is a fixie, you are safe to assume that it stops when you stop paddling. Cycling in the backward direction while on fixed gear mode will bring your bike to an instant halt. No need for breaks – but it has them.
Durable Strong Rims With 700c Double Walled Wheels
Like most road bikes, this Vilano single speed road bike features a 700c double walled with CNC machined sides wheelset. And it comes with durable, high-performance 700x23c tires. The rims are strong and durable.
You can comfortably ride through rough terrains or roads plagued with potholes without any worry about your bike getting damaged. Its 700cx23c bike tires make it a high-performance bike that can easily achieve high speeds thanks to its medium rolling resistance and high traction while riding on the road.
Reliable Braking System
When speed is all that matters, this Vilano single speed road bike can take you to amazingly high speeds if you are quite the pro. Even so, you need to be sure you have the best braking system on your side; for your safety and that of other road users.
This bike can come to a close halt without falling the rider or skidding far and wearing the tires. Its front and rear alloy calipers brakes are totally reliable. And they will certainly last long too. The front brakes feature a drop down bar version while the rear brakes feature a raised bar version that can totally depend upon and will deliver when put to task.
Pros
Lightweight tig-welded hi-ten steel frame and fork

Has no derailleur with limited

movable parts so it is a low maintenance road bike

Comes affordable without compromising on quality

Alloy calipers brakes offer superior braking performance

High-performance 700c wheelset

Equipped with rear flip-flop hub for easy conversion from single gear mode to fixed gear mode

Durable alloy

cracks with replaceable chainring

Comfortable grip alloy drop and rise

handlebar

Comfortable urban padded saddle
Cons
The brakes may wear out quickly and will need replacing
FAQs
Question: What is the recommended PSI for this bike? I heard some tires blow out at 100 PSI.
Answer: I have been riding the Vilano single speed road bike for about a month now and have not experienced any blowouts. I fill my tires to about 90-95 psi with no issues.
Question: What Does 700x23c Mean?
Answer: This is the tire size. Most road bikes tires range between 700x23c and 700x32c tire size. The higher the number the wider the tire is.
Final Verdict
If you are not into the shifters and derailleurs, multiple speed road bikes and would rather prefer a fixie or a simple single speed road bike, the Vilano fixed gear bike single speed road bike is one worth your time.
And it is worth the money too; coming at an amazingly low price without compromising on quality. This is a simple but feature-packed fixed gear and single speed road bike that is designed with performance in mind.
It is great for the morning commuter, the pleasure rider and one who rides to keep fit. It's unbranded solid color print job gives you total control over the wording, design, and color scheme of your bike.