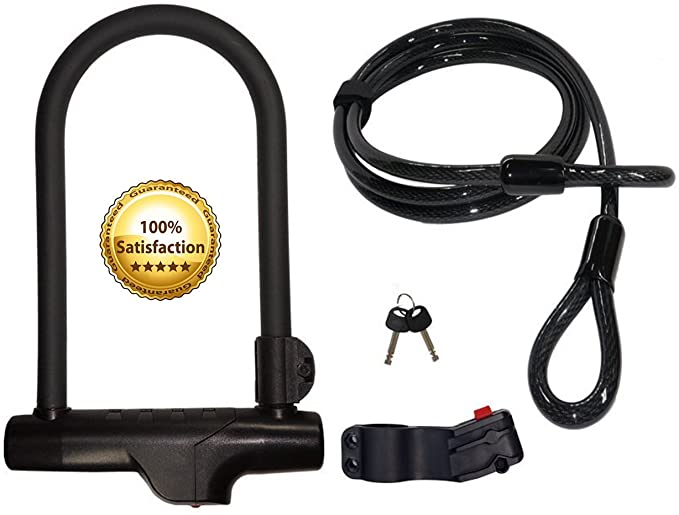 Acquiring a good road bike will certainly not cost you a fortune. But, the fact that you even considered purchasing a pricey road bike speaks volumes of how highly you regard cycling, road racing, and club riding or riding to keep fit.
Statistics estimates over one million in stolen bikes per year in the U.S alone! Two things make tracking down these stolen road bikes difficult: most people don't register their bikes or get their serial numbers, and bike theft cases aren't the law enforcement's major priority.
Fortunately enough, with the right bike lock and some good sense to take the bike inside after dark, your bike will be safe. So, the next time you leave your bike unattended, remember to lock up. Check out this review of our top ten best road bike locks to help you find the right lock for you.
Nothing secures your unattended road bike like a very strong and solid chain. The Mongoose BMX Key lock's massive chain offers the best protection. The chain is heavy duty steel that will guarantee your bike's safety, even in high-risk zones.
This 3.5 ft. the long high tensile chain is covered with a durable nylon jacket so your bike is safe from scratches. The chain does not come with a locking component; for this, you use a strong, secure padlock of your choosing.
Kryptonite is considered a reputable brand in road bike locks. This Kryptonite Kryptolok series 2 standard bike U-lock offers the best anti-theft protection. It is quite the popular choice. It includes a Transit FlexFrame Bracket that can be easily mounted on any bikes frame tubing; up to 80 mm in dimension.
It comes with 4 ft. flex cable for top security protection. This lock features a hardened steel shackle perfect for countering leverage and cutting attacks. It is a durable, secure lock whole disc designed cylinder guarantees resistance to picking and drilling. Locking and Unlocking are easy thanks to its "l" style key, and you get a pair.
An impressive utility road bike lock to replace the traditional padlock and chains lock types. Constructed of solid and robust cro-moly steel, this lock can withstand more than 1,500 lbs. pressure.
It is a heavy duty lock that is durable, weather resistant, and easy to use. Security is at the top of its design with triangular steel gussets to the side to eliminate the chances of picking or prying the lock. It is fully adjustable so as to achieve optimal size. The adjustable length is between 13,3/4" and 20,1/4".
The Illumilock comes highly recommended for its ease of use feature. It is a combination bike lock type that features military-grade braided steel and top security components for the ultimate protection.
It is a durable, 100% top quality lock that is picking, cut and drill resistant. Don't worry about unlocking under dim light; the Illumilock has LED lights on the combination lock component that makes the combination keys visible in the dark. The component is waterproof resistant as well as shock proof.
This is another highly rated Illumilock bike lock. It is a military-grade steel bike lock featuring a super U-lock that is the drill, pick and cut resistant. It is an impressive bike security accessory that comes with two keys – one of which has LED lighting for illumination during night time. Additional to the LED technology, the bike lock comes with a rear bike light for optimal night security.
This bike tail light works on steady light, flashing light, and strobes. The whole equipment is waterproof and shock resistance for durability and longevity. What's more, the U-lock combination lock and Back tail light set comes with a 100% lifetime guarantee.
This all new Cocoweb bike lock combo is a worthy investment in your bike's security. It features a combination of Lotus lock and Armbar for maximum security and protection against bike theft. The Armbar U-Lock component features a tough Alloy steel construct with a durable PVC sleeve to protect against the elements.
Generally, this is a versatile lock that guarantees to security for your bike, scooter or ATV. This tough Armbar offers protection against theft and damage. The lotusLock flex cable component is made of solid hard braided steel for even more protection. The two works together to offer your bike an all-around security detail.
The Wordlock cable lock is popular for its ease to use and superior lock features. It is a heavy duty lock that features solid hard flexible steel cable coated with vinyl for no scratching. The strong 10mm 6 ft flexible cable is long enough to securely lock your bike yet eliminate "dead spaces" used by bike thieves to maneuver tools to breach bike locks.
The Match key feature eliminates the challenge of locating your lock keys from a big bunch in three ways: uses similar key and lock color, unique key shape, matching words laser etched on lock key and lock.
This OnGuard bike lock is a combination type lock that features a strong hexagon chain. Nothing can go through this 8-10mm Titanium enforced hard steel hexagonal chain. It is cut resistant for top security and link chains are square to eliminate chances of breaching through the links. It features a secure and reliable 2 times bolted locking mechanism.
The combination to this lock is completely resettable making it easy to use and change combinations. This 80cm 8mm 2.59" steel chain combination ball lock is highly rated and comes most recommended. What's more, it is a high-quality security accessory that won't cost you a fortune.
This is a pretty simple compact yet strong cable lock designed to secure your firearms. It is versatile and can be used to safely lock your helmet and other bike accessories as well as your road bike. It uses no special locking techniques or special lock keys and locking/unlocking is quick and easy.
Security wise, this cable lock does a good job in ensuring your equipment's safety. The cable is made of a durable heavy duty hard steel alloy to guarantee maximum protection. It is strong and cut resistant to offer excellent protection to your road bike or bike accessories like helmets.
Experts recommend this Onguard bike lock for its resistance and stability. It features a U-lock that is strong to resist cutting, drilling, and picking. It is easy to use and lock quickly snaps to release when key matches. It comes with 5 keys cut to precision by laser technology, 4 extra grip keys, and a microlight key that produces a bright light for illumination at night.
The Z-cylinder offers top security and is bump proof and resistant to pulling. The bulldog mini is a 4 ft. braided heavy duty steel cable that comes in to top up the already firm security detail.
Things to Consider Before Buying Bike Lock
If you are looking to buy a bike lock to secure your road bike when you have to leave it unattended, here is what you should be looking for:
Type of bike lock
Different road bike locks use different locking techniques. Generally, you will find yourself choosing between two types of bike locks: shackle and cable chain. It all depends on which type you will find most convenient.
Weight of the lock
If you come from relatively safe areas, you don't want a lock that will weigh you down. A lightweight cable lock will do, and it is portable too. Theft prone areas demand stronger, more secure bike locks. Mostly, these are the heavy types that are hard to drill, cut or pull.
Ease of use
Here you can choose between combination component locks or lock and key style locks. Generally, the lock and key types are easy to use. Even so, there are some manufacturers who make their combination locks simple and secure.
Portability
Heavier locks are considered the most secure. Even so, there are times when you don't need that massive heavy lock that you will soon find annoyingly weighty taking to and from the garage storage component. You may want to consider buying a lighter, portable and secure lock.
Testing certification
Having a lock that is tested and certified for safety, resistance to cutting and impenetrability will give you a boost of confidence and keep your mind at ease.