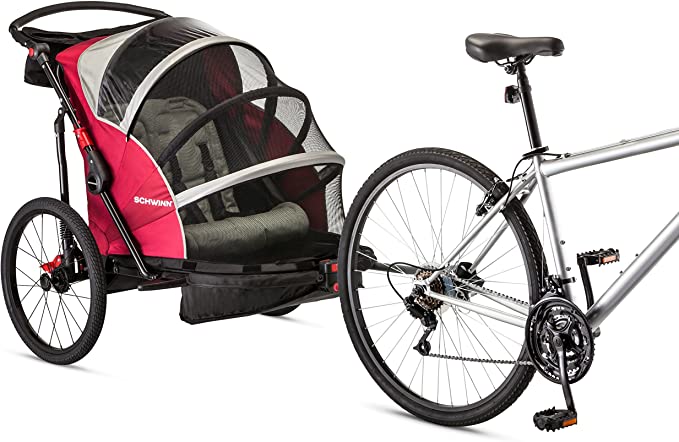 Have you ever faced a dilemma between staying fit and looking after your baby? Have you been too busy with them to go back to the love you share for cycling?
We have just the right solution for you.
Baby bike seats that will ensure you and your child have the best outdoor experience away from just your front lawn. You can enjoy the love for cycling with your child on board with the best quality products available.
Experience the world with your baby and instill in them the same enthusiasm for outdoor activities.
Who should get this?
Have you not been able to ride your bike because your toddler keeps you busy?
Baby bike seats are the best way to keep your love for cycling alive as well as spend quality time with your child. With the right bike you can choose the best bike seat based on your preference and the age of your child. These particular seats are designed for children between the ages of 6 months to 6 years.
Maintain a healthy lifestyle whilst allowing your child to experience a world beyond your front lawn.
How to use a baby bike seat?
Train
It is important that you train before securing your child on to the seat. Train cycling make sure that you're confident on your bike. Train with the preferred bike seat without your child in it making sure that your get your self acquainted with the added weight.
Start slow
Make sure you plan the route carefully avoiding bumps and steep hills. Try keeping it simple on your first ride on a flat road because you and your child both need to get used to the experience.
Make sure you avoid rush hour and main roads with traffic instead stick to the friendly familiar routes.
Are you fit enough?
Ensure that you are fit enough for the ride planned. Consult your doctor regularly for a fitness check. Also make sure that your baby is fit enough for the ride.
Secure your child
Always carefully read the manufacturer's instructions before strapping your child into the seat. Ensure they are strapped on properly with helmet for safety and sunscreen if necessary. Ensure that the seat does not interfere with the mechanism of the bike.  Make sure your bike is in good condition.
Practice
Practice makes perfect and avoid taking risks with your child on board. Keep practicing cycling with your child on board as well as getting the child in and out of the seat. It takes getting used to.
Benefits of using a baby bike seat
You are capable of interacting and increasing your bond between you and your child
Improve your fitness
Relieve stress and boost a positive mental attitude
Introduce your children to a healthy activity at a very young age.
Increase your metabolic rate
Firm your thighs and bottoms without worrying about your child at home
Tone your tummy muscles
Keeps your weight off
Enjoy fresh air and a fun outdoor activity with your child
Travel free through the best scenic views
Child Bike Seat Types
Child bike seats can be either mounted to the front or the rear end of the bike bakes on the bikes specifications and your preference. There are mainly two types of child bike seats as follows:
Front mounted baby bike seat – Mainly mounted to the steering tube or the seat tube it is suitable for toddlers from 6 months to 3 years.
You are close to your child and capable of keeping an eye on them. It is light in weight and is an option for many of the available road or mountain bikes.
However, may impact the leg room for the rider, reclining may not be available and the child is directly facing the wind.
Rear mounted baby bike seat – Rear mounted bikes are either mounted on to a separately purchased rack or to the bike frame. These are designed for children of 9 months and above.
The rear bike seats have a variety of ages it can cater to whilst providing a wide variety of support for the child. It is available in reclining positions and easy to remove.
However, your child will be out of sight and is not appropriate for all bikes. It is quite heavy and bike handling may be impacted.
The best baby seats attached bike available in the market
1. Rear Mount Baby Carrier Seat USA Safety Standard with Handrail Racks
A rear mount baby bike seat that is designed and tested to hold a children from 9 months to 4 years (up to 18 kg/ 40 lbs.). The seat comes with a bike rack that can only be attached to bikes with eyelets/ rack holes at the rear end. The seat easily clicks on to the rack and be removed easily.
However, if you want to fix it to another bike the entire rack needs be removed and fixed.  It has a straight and comfortable sturdy seat but it does not recline.
Assembling the rack is quite easy.
Weighing at just 3 kg (11.1 pounds) it will sure help you to keep your balance and not interfere with your cycling mechanisms. This is not compatible with beach cruisers, bikes without rear eyelets or rear suspension bikes. Instead, it is compatible with mountain bikes (26"), 700c and hybrid road bikes. The handrail and the foot straps provide a secure bike seat.
However, ensure your child is equipped with a helmet for precaution.
PROs
Easy to install
Strapping in the child is easy
Good quality
Comfortable and sturdy seat with handles
Not bulky
CONs
Seats made of Velcro
Seat isn't adjustable/ reclining and sits straight
Bike rack has certain issues when installing
Need adequate tools to install the product
2. Schwinn Joyrider Double Bicycle Trailer
Take your family on your rides with this Schwin Joyrider double bicycle trailer. Attached by a universal coupler, you can make sure that none of your kids are left behind. It comfortably fits two kids weighing up to 40 lbs. from kids who are 6 to 1 year olds.
There extra storage space for snacks and other necessities in the rear end that can carry up to 20 lbs. This three tires trailer has a great feature of a canopy that would protect your children from bugs or simply uncontrollable weather however; the thin mesh material does not do well with major sunlight.
It is easy to pull down and latch into place. The seats are quite comfortable with padded cushions. The children are safe within, with the straps holding them in place. The straps also can be attached to fit one child who will enjoy a comfortable ride.
This is a worthy purchase to ensure that you are keeping your family safe as well as nourishing for your love for cycling as well. If not, it easily converts into a stroller or jogger. So put on your trainers and jog with your little ones safety strapped on to this Joyrider. It is light weighted and safe with aluminum and steel frame construction.
PROs
Easy to open and close the canopy that pulls down and latches into place
No zippers or Velcro
The stroller jogger conversion is easy
Comfortable bench seat that is padded
Easy to strap children in and out
Accommodates two child as well adjust straps easily for one child to be centered as well
Easy assembly and disassembly
CONs
Certain issues in the coupler
Large in size to fit through normal doors
Ventilation issues
No barrier between two children resulting in the heavier child to lean on to the other
3. Schwinn Petunia and Grit Steerable Kids Bikes with Quick-Adjust Seat
From the bell that rings "tring tring" to the push handle for the adults, this little bike is a total joyride. When your little one is tired and doesn't want to pedal anymore, you can safely guide them using the push handle attached to the rear end of the bike. The push handle is sturdy and capable of steering keeping the bike completely in control.
The training wheels provide the necessary balance for a beginner that can make leaning to ride a bike easy and fun. They are also detachable and can be used when you know your little one is ready to take the next step.
Comfortable seats that are adjustable ensure that as your child grows, the bike can grow with them ensuring the longevity of its use. The chains are enclosed with chain guards and the bike has mud guards protecting your child from the grit of the ground.
This also has an option to hold a water bottle that would keep you hydrated whilst you enjoy your outdoor rides with this little bike.
PROs
The rod helps adults to easily stay in control, push and steer when necessary
Adjustable seat and support wheels
Chain and mud guard
Assembly is easy
Strong construction
CONs
Steering mechanism need getting used to by the child
Need to concentrate a lot on assembling to ensure a steady construction
Heavy
4. DO LITTLE Front-Mounted Kids Bike Seat for Active Riding
Keep an eye on your little one as you enjoy your cycling with this front mounted baby seat. Interact and bond with your little one as you ride through the familiar paths experiencing the outdoor world together. Suitable for children from 18 months to 7+ years it fits children who are between 2.5" to 4'7" tall. It can hold a maximum weight of 61.8lbs.
The seat takes time to adjust to, but when they do it quickly teaches them to balance on it and provide them a hands-on experience of the same thrill you experience with your cycling.
Strong and stable, the Do-little front mount kids bike seat is tried and tested and is mounted on the frame. It is carefully designed to have internal rubber pads on each contact point of the frame enabling protection to the bike. The seat can be fixed on to a comfortable position according to the riders' preference and comfort that ensures your balance when riding with a child.
It takes time practicing with the added weight but it is possible to get used to it in a very short time. It is sure to provide your child experience till they learn to ride on their own.
As safety precautions make sure the little one is clad in a bay helmet and protective gear and practice before you take them along with you.
PROs
Good quality
Easy to paddle with the child on the bar
Well balanced
Safe for kids
Can be used for a long time
Easy to install
Strong construction
CONs
Hard to peddle on steep hills
Handle for the child is a bit bulky.
5. Mac Ride Child Bike Seat – Stealth/Black
Are you confident with your bike riding skills and want to experience the same with your baby?
The Mac ride child bike seat is perfect for you.
Although the assembling requires a bit of work, the bike seat allows you to make conversation with your child and enjoy their joy as you ride with them along the trails of the outdoors.
You can hang out with your toddler as well as share your love for cycling providing them with the first experience of wanting to ride a bike themselves. The little one will hold on to the steering rod so make sure that you get them gripping mittens or gripping tape on the bike so they have a stronger hold.
The front mounting bike seat is of great quality and is not suitable for single tube bike frames or folding bikes. The bike seat is capable of holding passengers between 2'5 and 4'7 inches tall and maximum weight capacity is 61.7 lbs. It is suitable for kids from 18 months to 6 years. Your child can easily learn to balance on this as it has a curve on the seat that is quite comfortable.
Get your toddler a good baby helmet and safety gear and you are good to go.  It is sure to bring years of fun to your family.
PROs
Good quality
Easy to paddle with the child on the bar
Well balanced
Safe for kids
Can be used for a long time
Easy to install
Strong construction
CONs
Hard to peddle on steep hills
Handle for the child is a bit bulky.
Conclusion
Make cycling an experience that both you and your family can enjoy. Ensure your kids safety and comfort as well as providing them with a hands-on experience of the outdoor environment. The products listed are exclusively made with quality material and well researched methodologies. Make an informed decision after having a look on Amazon.