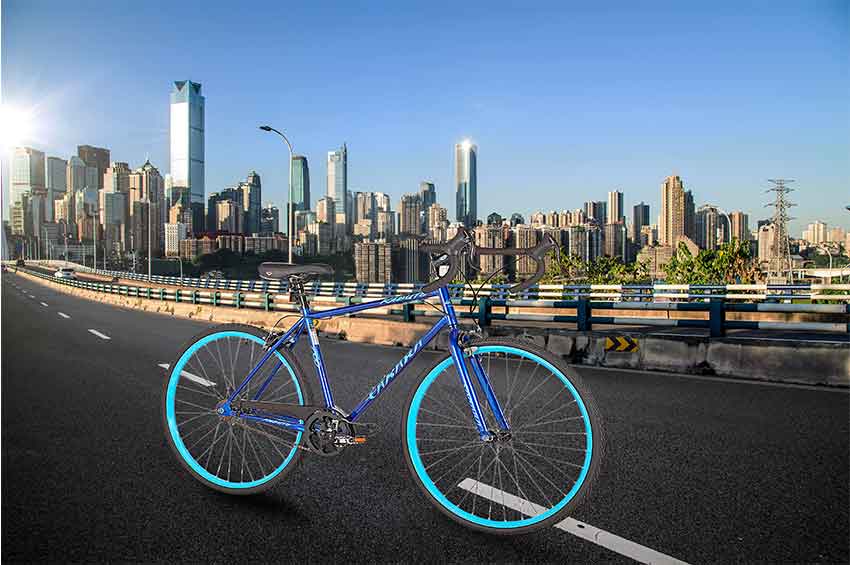 With no derailleurs, shifters and other moveable bike components that require frequent maintenance, the Takara Kabuto single speed road bike is devoted to simplicity and performance. It is an inexpensive single speed road bike suitable for riding around town, commuting to work or school and touring with the cycling club.
This road bike has been on the spotlight for the best single speed road bike category due to its surprisingly attractive features. Even with its low price offering, this road bike does not compromise on quality and performance, and it certainly offers the best riding experience.
It features a simple yet high-performance drivetrain comprised of a rear flip-flop hub that enables easy toggling between fixed gear ride and standard freewheel ride. The bike also features a lightweight and durable handcrafted tubular steel frame with horizontal drop out handlebar for comfort when you are riding and to enhance speed performance. Kenda 700x32c tires make the bike a smooth rideable to handle city roads effortlessly.
Features of the Takara Kabuto Single Speed Road Bike Review
The bike comes low-priced and weights light. Even so, the manufacturers did not compromise on quality and performance features. Here are some of the bike's main highlights.
Durable Steel Frame with Horizontal Dropouts
The Takara Kabuto single speed road bike features a heavy-duty tubular steel frame and fork for durability. This makes the bike a little heavier as compared to other road bikes in the market, but the use of alloy to make most of the other components compensates for the weight.
The alloy is a durable yet lightweight material giving this bike the more desirable lightweight characteristic and a sturdy build too. The handcrafted frame is tig welded to make it extra sturdy.
Weight at around 30pounds, this bike offers an excellent riding experience. And its sturdy steel frame with horizontal dropouts makes the bike very durable. You can comfortably ride through roads plagued with potholes without worrying of doing the bike any harm. And you will not have to go for frequent repairs or parts replacements.
Simple Single-Speed Drive train
The bike comes with a simple single-speed drivetrain suitable for riding around the street roads and flat terrains. It features a rear flip-flop hub that makes toggling between the two available gear settings quick and easy. The two gear options available are freewheel mode and fixed gear mode- they both enhance the bike's performance in different terrains and road conditions. The fixed gear mode, also known as the fixie, is suitable for use on flat terrains like the city roads. The freewheel mode let you go downslope quickly.
The bike is a single speed road bike meaning that it will stop when you stop paddling, and you will find riding uphill a bit hard if you are a beginner. Even so, it helps keep you fit, and your stamina improved.
Durable Strong Rims And 700c Tires
Kabuto's tires are more significant and thicker than those you will find on standard road bikes. It's larger 700x32c Kenda tires provide additional comfort when riding. You may find that this will have the effect of adding to the weight of the bike.
Even so, the bike offers a smooth, comfortable ride and it runs fast for a single speed road bike too. It comes with heavy-duty rims for rigidity and strong spokes for durability and stability. This makes the bike a good ride even through rough pathways and roads plagued with potholes.
Superior Performance Alloy Side Pull Brakes
Even with its low price offering, this road bike does not compromise on quality and performance. Because road bikes are meant for comfortable riding at high speed, they come with a superior performance braking mechanism. This single speed Kabuto road bike comes with alloy callipers side pull brakes to offer a fast halt.
The side pull design is a popular one in most road bikes. It is preferred for its reliability and reliable delivery. As long as the brakes are well centred, you can trust the braking mechanism to be useful when you need to bring the fast pacing bike to a stop or slowing down when riding down the slope.
Easy On The Eye And Easy To Set Up
The Kabuto single speed road bike comes at a reasonably great value for its price. It is a nice looking bike that will certainly attract people's attention when you ride through the city or along crowded paths. You will also notice that the bike is shipped in a sizeable package that contains little parts that make it an easily assemble the bike. You will certainly not require any sophisticated tools to assemble. Also, it will be no need to get technical assistance to help in the assembly of your bike.
Pros
Sturdy all-steel tubular frame and fork that is also light in weight
Utilization of alloy components for lightweight characteristics
Twig-welded to offer extra-strength
Easy change fixed and freewheel gear options
Simple single-speed bike (no derailleurs) for less maintenance
Superior braking power alloy side pulls brakes
Attention-grabbing appeal
Easy to assemble
List Item
Cos
Limited seat padding reduces comfort especially during prolonged riding
Frequently Asked Question's
Question: Can you stop this bike by pedaling backward?
Answer: Yes, This bike is a fixie. This means that it stops when you stop pedaling. Also, driving backward when using the fixed gear mode applies a back pressure on the tires that brings the bike to a halt.
Question: Does this bike come assembled?
Answer: It does not come totally assembled. You will have to tighten everything and every screw and bolt, place the tires and fix the seat. Even so, the bike is relatively easy to assemble. It may take you less than 20 minutes to complete the whole process.
Final Verdict
Takara Kabuto bike designed for the city street riders and the off-road exploration cyclists. It is perfect for any task you assign it. It is recommended for commuters and fitness riders. And, because of its affordable price without compromise on quality, this road bike comes highly recommended.
It is designed with an amazing and simple outlook that makes everyone look your way as you ride along. And its high-performance features make it the perfect choice for cruising the city roads.