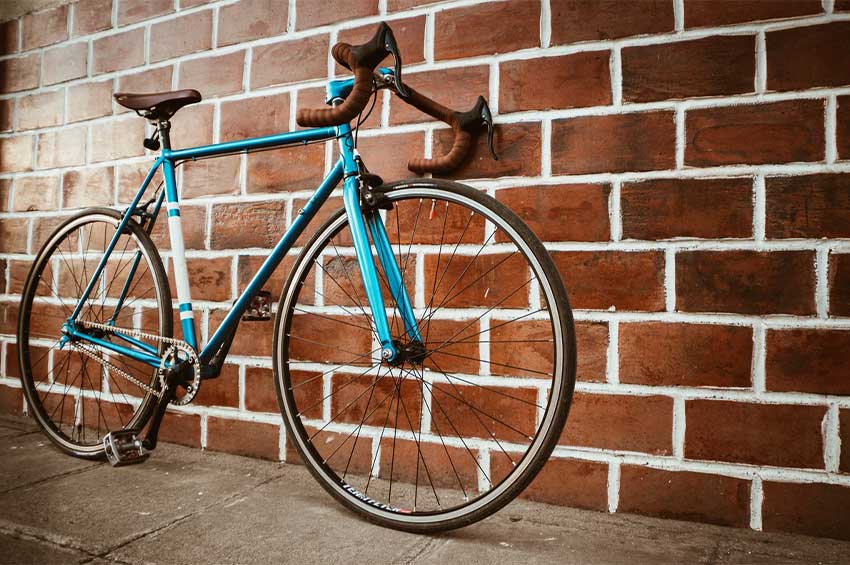 Are you in the market for a light-weight, fixed gear road bike? The Sole Fixed Gear Bike, an urban road bike may be the best choice you will find. It's light but sturdy and durable. A simplistic minimalistic design adds to its lightness…weighing only 26lbs. You can literally carry it up a flight of stairs to your apartment floor, over your shoulder.
You'll certainly appreciate its low price for the premium features offered. It looks really good, making it great for riding around the neighborhood. With flip-flop hubs for easy toggling between fixed gear and single speed mode, this bike is good for general exercise or just riding for fun.
Whether riding in the city streets or off-road, it offers a smooth and comfortable riding experience. It's a great choice for fitness enthusiasts as well as busy commuters.
Sole Fixed Gear Bike Review – Features of  Sole Bicycles Fixed Gear & Single Speed, Urban Road Bike
For a bike that doesn't have gears to shift speeds, this bike certainly offers an agile ride. It's a high performer, functional and durable to last for the long haul. It comes with some incredible features that make it a practical road bike. Here's a glance at some of its premium features.
Durable, lightweight frame 
The Sole Bicycle features a minimalist frame that eliminates unnecessary components to make it lightweight and functional. The simple design maximizes the bike's efficiency and speed. Its frame is steel – light yet solid and sturdy. The whole bike weighs about 26lbs!
The fork is high-performance hi-tensile, machine Tig-welded for utmost stability. This makes it a comfortable ride even over uneven roads. Superior frame geometry makes this bike an agile ride. It speeds up when needed to and stopping is as easy.
The handlebar makes turning and controlling the bike quick and easy. The rider takes full control for a personalized riding experience.
Reliable brake system
With superior brakes you can rely on, this bike is good for the speed. Coming to a stop is easy. Radius front brakes are functional to offer prime stopping. The bike's calipers are durable and will last for a long time over their useful span. You can rely on their superior power to stop the bike not matter what speed you are cruising at.
When the bike is on fixed gear mode, it stops when you stop pedaling. This lets you bond with your bike on an amazing level. You only use the brakes with the single speed mode or when it's an emergency.
Large profile hubs
Large profile hubs make this bike ride amazingly smoothly. It features flip/flop hub that allow for toggling between different riding modes. You can easily change between single speed mode and fixed gear mode.
In fixed gear mode, your bike does not cruise; you only move when your feet are pedaling. You feel closer to the bike since your motion is perfectly in sync with the bike's motion.
Single speed mode allows you to cruise. This mode has only one gear – good for when you want to ride freely down a slope. You'll love this mode if you stay uphill and want to commute to work every morning; riding uphill in the evening makes for a good workout.
High-performance wheels
Wheels, tires and tubes for this bike offer an incredible riding experience. With durable rims and spokes, this bike remains sturdy when rolling on the roughs just as it is on the flat road.
It's machine deep dish 50mm rims are strong and durable. Rims are held together by solid spokes that make the bike ride rather smoothly even on rough terrain.
700x28c tires and high-performance tubes for each wheel makes the bike a high performer. Wheels have a high traction and low rolling resistance to make for an agile ride. Generally, the bike offers an amazing riding experience.
Quick assembly; easy maintenance
If there's one thing you'll find extremely satisfying for this bike, it has to be the ease of assembling. It comes together awfully quickly. In just a few simple steps, you have your bike ready for the road. The good thing about the assembly is that you will not require sophisticated tools or technical assistance.
This is a minimalist simple Fixie road bike. Manufacturers strive to make the bike as simple as possible, without compromising on functional features and performance. Its design eliminates unnecessary features and accessories. This has the advantage of cutting down on weight and making the bike an easy maintenance bike. Without numerous moving parts like gears, shifters and derailleurs, this bike is awfully easy to maintain. Simply fill the tires –maintaining 80-120psi- and you are good for the road.
Frequently Asked Question's (FAQs)
Q. How does it performance as a Fixie?
A: It rides smoothly, great for workout or riding for pleasure. In fixie mode, it stops when pedal motion is stopped.
Q. Does this bike come with accessories like stand and bottle cage?
A: No. these are eliminated to make the bike lightweight for the performance. However, they can be purchased separately and installed on the bike.
Final verdict
If you are an avid cyclist, a fitness enthusiast or a commuter looking for a simple bike that will have the job done, this is the bike for you. It's a high performer that makes every day commuting an easy and fun thing. You'll certainly like the low price tag – without skimping on quality features or durability.
For its price, you get everything you need in a bike. Maintenance is easy – moving parts like gears and shifters are eliminated. It's a great bike that promises an amazing and comfortable riding experience wherever you are. You will not regret this bike as a beginner.